16 Jun 2021
How To: Manage and Monitor Your Server with 'Device Manager'
Welcome to another entry of our Ubersmith 'how to' series!
For this post we're going to walk you through the capabilities of 'Device Manager' in Ubersmith and how to utilize it to better manage your server. Ubersmith is the management software that our customers use to submit tickets, view billing information, and manage their services through https://www.manage.ioflood.com.
"Can you please reboot my server?"
"How much bandwidth is my server using?"
These are two of the most common support enquiries we receive.
While we are always happy to assist with these questions, we have found that our customers are often not aware they are capable of performing these functions themselves all within our support portal.
In this guide we will show you how to access these and more.
---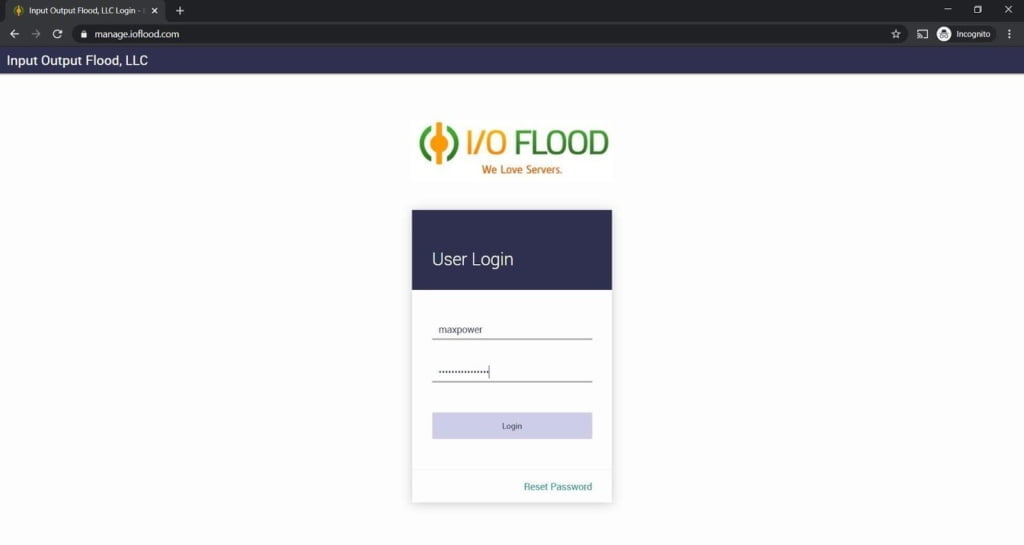 First, you will need to go to the IOFLOOD account management portal and log into your account by inputting your username and password. Just like our friend Max here did.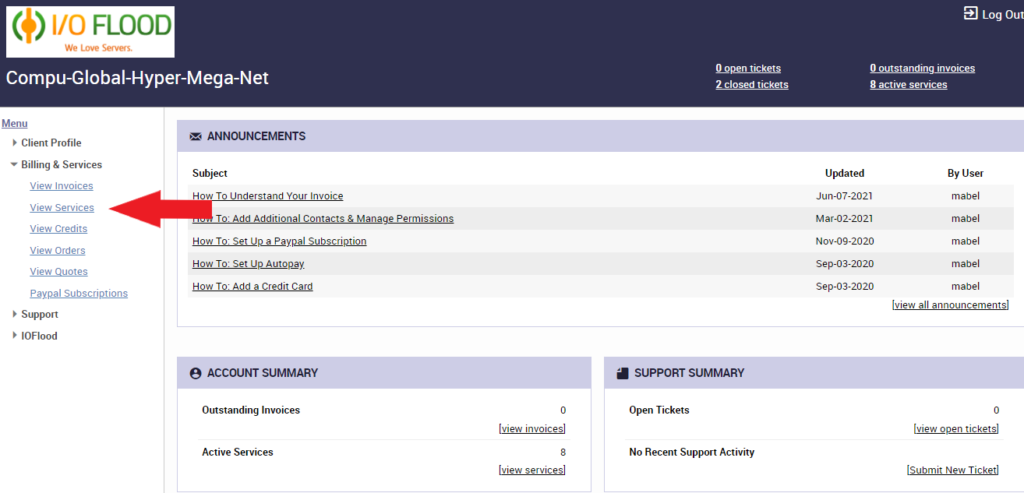 Once you've logged in, you need to navigate to the menu on the left side of the page and under 'Client Profile' you need to select 'View Services'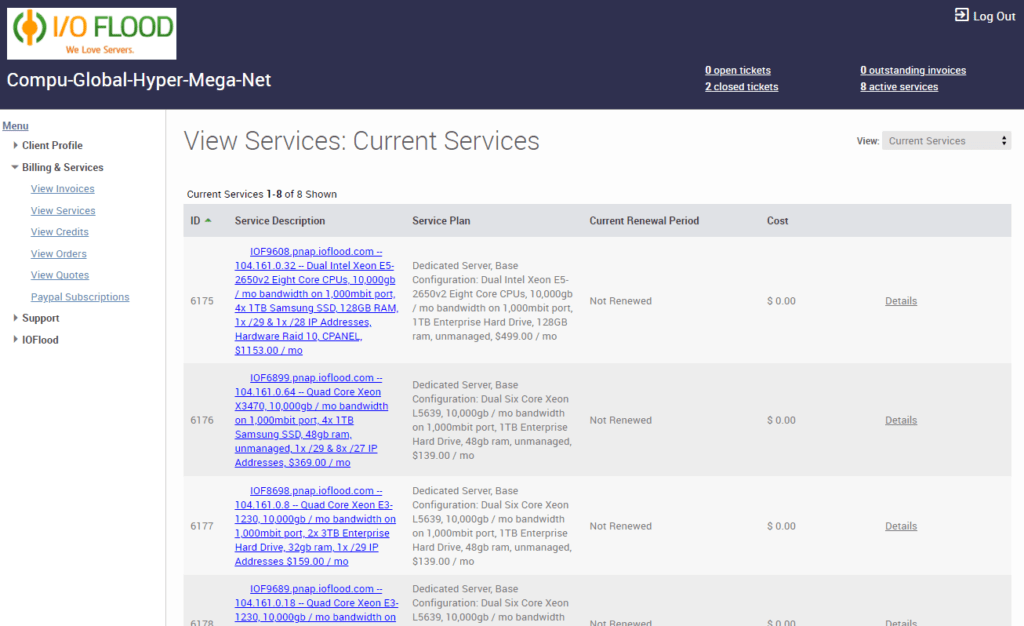 At this point, you will be taken to a page that lists your services. Simply select whichever service you wish to manage.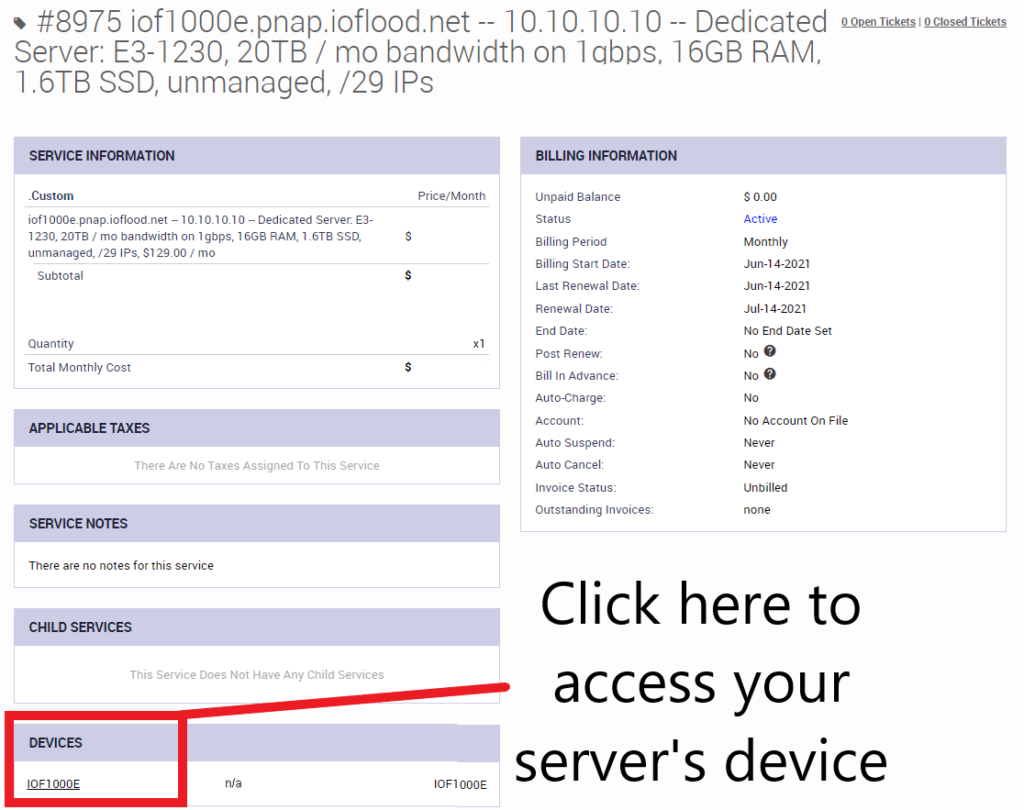 Once you have selected a service, you will find the Service Item page. Here you will be able to see useful information such as billing details, IPMI / VPN credentials, server specifications, and more. To access the server's Device Manager page from here, simply click on the server under the "Devices" field as shown in the above picture.
On the Device Manager page, you will find additional information about your server and several functions you can perform.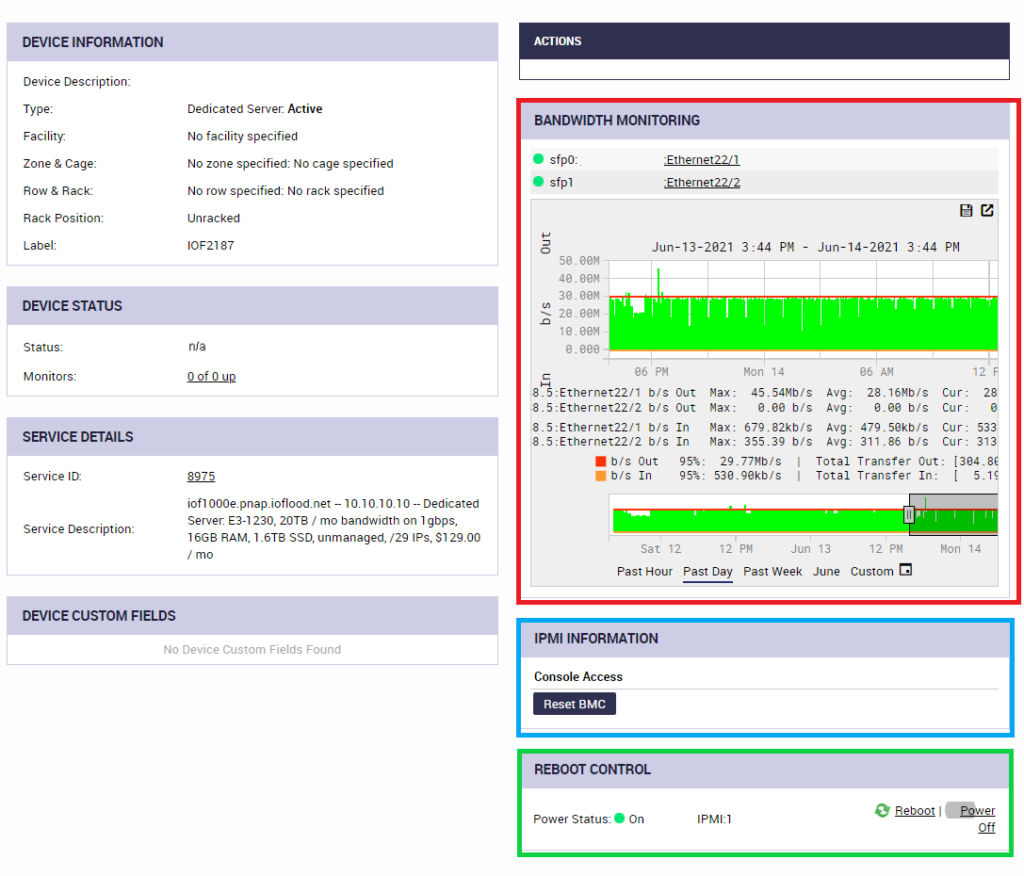 Bandwidth Monitoring
In the above image, I highlighted in red the Bandwidth Monitoring section. You can interact with this graph to view your current and historical bandwidth usage, including the average and 95th percentile quantities as well.
BMC / IPMI Reset
In blue I have highlighted the ability to restart the server's IPMI / BMC interface. If the server's IPMI interface ever seems slow or unresponsive, restarting this often fixes the problem. When you press this button, the IPMI interface will be unreachable for up to 5 minutes while it restarts, but it will come back online automatically.
Server Reboot and Control
The green highlighted section features power control options for your server. Here you are able to initiate Power and Reboot commands to the server. This is convenient if you are unable to initiate the commands over a typical remote connection such as SSH or RDP.
I hope you've enjoyed this most recent addition to our 'how to' guides for Ubersmith, all designed to help make managing your servers easier.
Please make sure you check back on our blog regularly as we will be doing more of these 'how to' posts to help our customers navigate through our Ubersmith customer portal.