19 May 2022
Used Server Parts – Q2/2022 Quarterly Pricing Graphs
You may be familiar with our monthly pricing report for used server parts. To make the historical trends more visible, we are starting a new feature where we show the previous 12 months pricing data in graphical format. This is the first quarterly installment of this new report.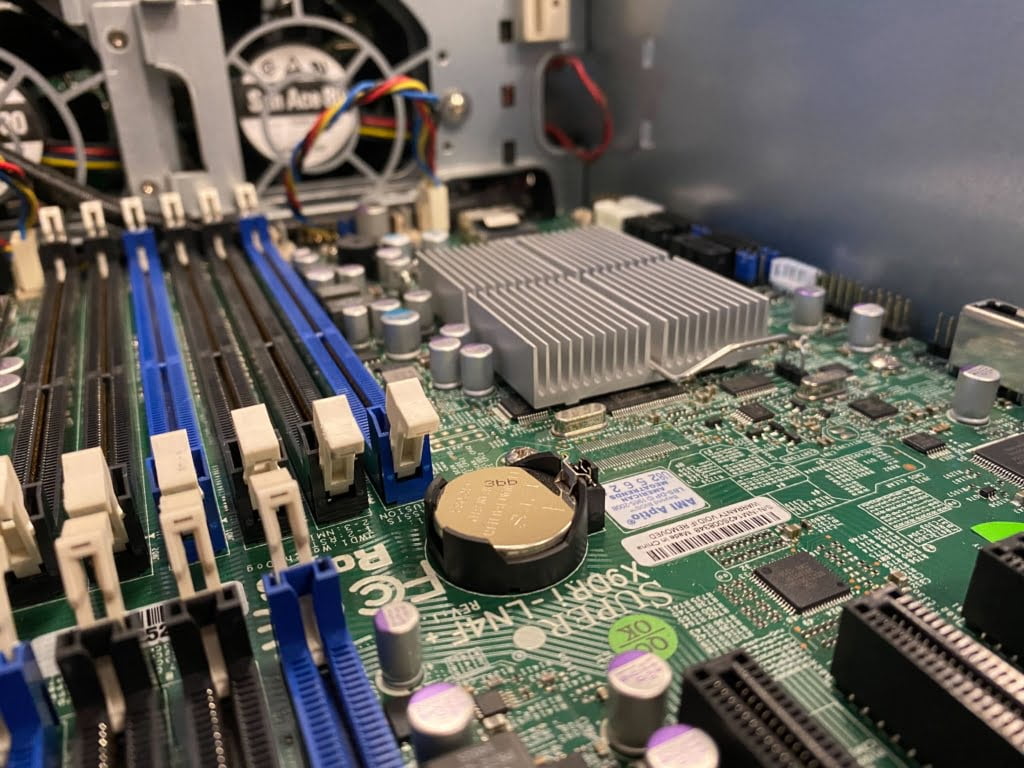 In our monthly price blogs we track numerous amounts of server parts. Please see our most recent here.
In order to present the data in a legible manner we have separated these prices into the following categories:
SAS and NVME SSD
SATA SSD
Hard Disk Drives
DDR3 RAM
DDR4 RAM
Mid-Tier CPU
High End CPU
_______________________________________________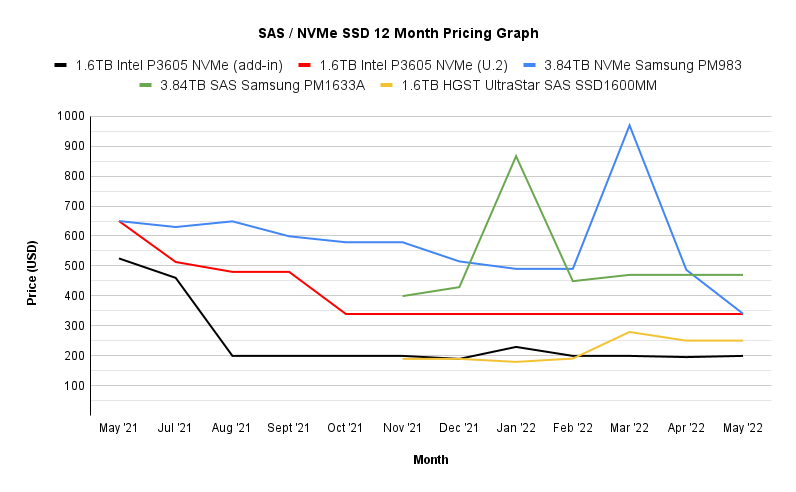 As you can see, despite having the same specifications and capabilities, the "addin card" model of 1.6tb Intel P3605 NVMe drive is consistently much less expensive than the U.2 form factor version of the same drive. This is because the addin-card model is commonly installed into Sun Microsystems database servers. As such, there is a consistently supply of this model of drive in the aftermarket, as customers upgrade those servers.
_______________________________________________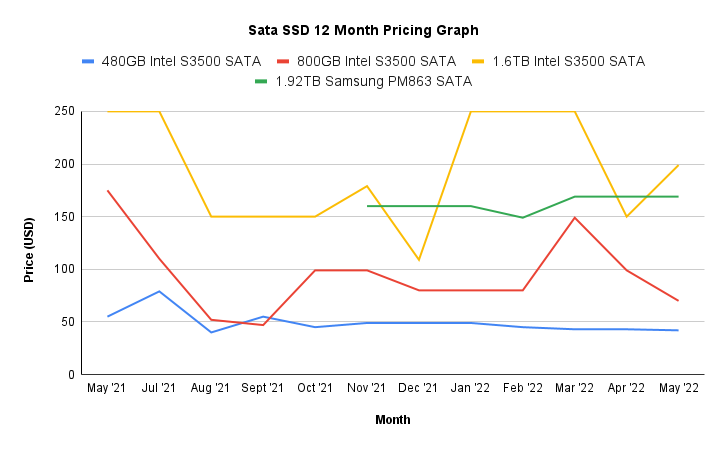 As you can see, 480gb SSD prices tend to be pretty steady, while 1.6tb SSD prices fluctuate quite a lot more. If you're in the market for Intel 1.6tb SSDs, it can pay to check the market regularly and buy when someone is dumping stock for cheap.
_______________________________________________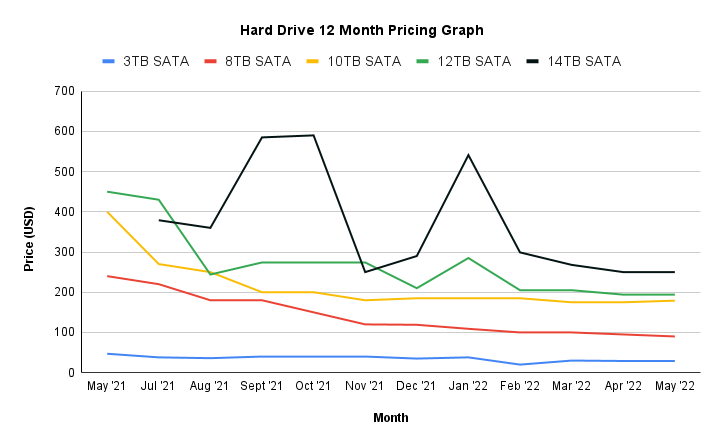 Throughout most of the last year, 8tb hard drives have been a sweet spot for price vs capacity, with 12tb drives also being a good alternative if you need more storage for each drive bay. Relatively speaking, the price / tb on used 10tb and 14tb drives have left something to be desired over most of the previous 12 months. We track used HGST hard drives due to their exceptional reliability, good performance, and good availability.
_______________________________________________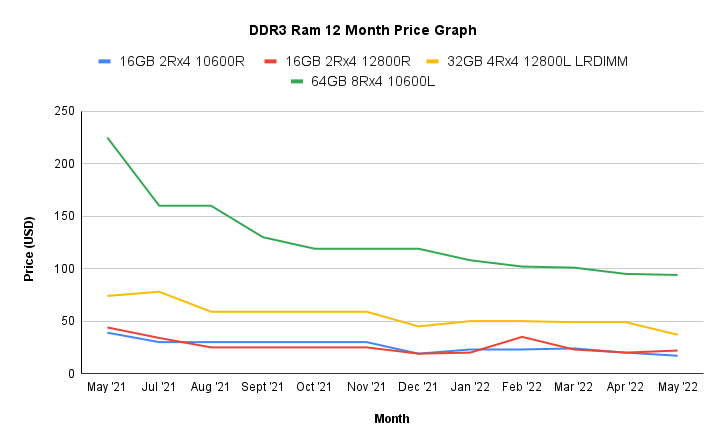 The price difference between lower speed 10600R and 12800R 16GB DDR3 RAM has been very minimal over the last 12 months, so we recommend going with the faster ram even if you don't specifically require that speed. After major price hikes in the year prior, it's good to see DDR3 ram coming back down in price across all size categories. That said, With DDR3 being an aging platform, it remains to be seen how much longer customers can take advantage of these good deals. At some point, the newer CPU platforms that require DDR4 RAM become hard to resist.
_______________________________________________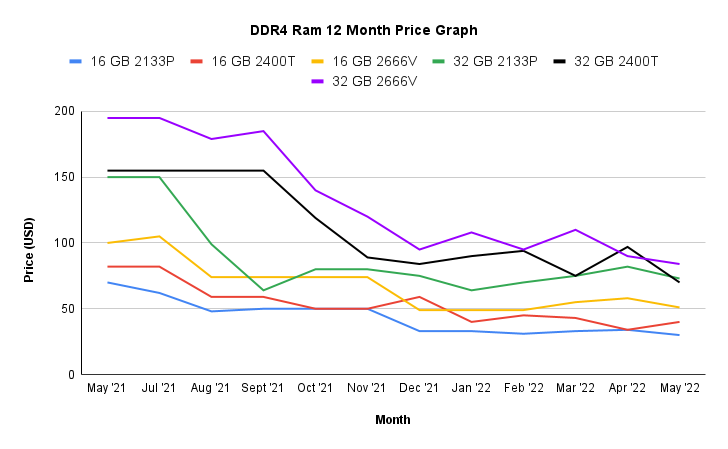 DDR4 ram has followed a similar pattern to DDR3 ram over the prior year — after having major price hikes in the prior year, prices have finally come back down gradually over the last 12 months. For 16GB DDR4 sticks, there remains a significant price difference between different speeds of ram, whereas for 32GB DDR4 RAM, the price difference for 2133, 2400, and 2666 speeds has been much smaller, especially recently. We always recommend buying the fastest ram that your CPU can support. In the Xeon line, E5v3, E5v4, and Scalable Xeon gens 1, 2, and 3, all support increasingly faster RAM as you get into the newer product lines. Matching the RAM speed to the CPU can save you some money here, by only buying RAM speeds your CPU supports.
_______________________________________________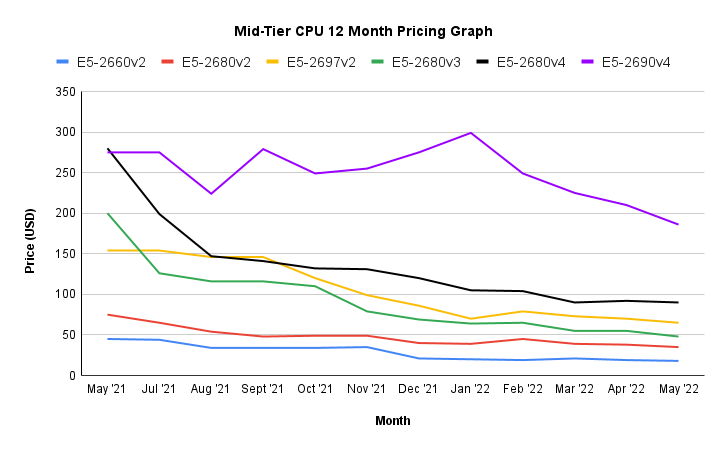 At the risk of sounding like a broken record, CPU prices have dropped gradually over the last 12 months, after having spiked rapidly in the prior year. With the 14-core E5-2680v4 now being under $100, outfitting a server with 2 of those processors can provide really excellent performance at a bargain price. Meanwhile, if you are still running servers with lower end CPUs like an E5-2620 or E5-2620v2, the extremely low price of the 10-core E5-2680v2 makes for a compelling case to upgrade. Just be careful — some models of motherboards in that class were only compatible with E5-v1 series processors, while others support both v1 and v2 after a bios update.
_______________________________________________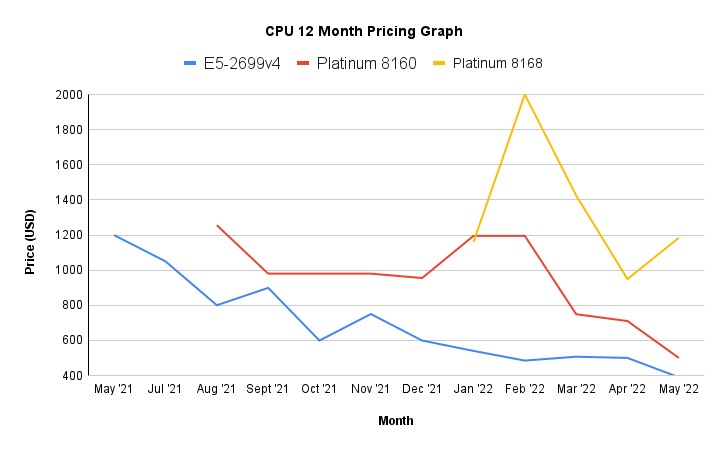 The high end CPU chart can be thought of as a "placeholder", where we track CPUs we expect to drop in price in the future. At current prices these are not a compelling value, but, as they represent some of the best performance possible on their respective platform, it pays to keep an eye on them in case they drop in price.
_______________________________________________
We will be posting more quarterly reports throughout the course of the year. We believe these graphs will help identify trends in pricing.
For independent hosting companies, the price of hardware will always be an important factor. Knowing the "average" price for a piece of hardware will help keep operating costs down as well as get rid of the guess work when looking for materials.
For customers of dedicated hosting companies, this information can be valuable when negotiating with hosting providers. For example, when you know that E5-2680v2 CPUs cost less than $50 each, it makes you wonder why some hosts are still offering E5-2620v2 servers instead of updating them to much higher performance compatible CPUs like the 2680v2.
As always, IOFLOOD loves servers, and if you do too, we hope you'll join us! If you're interested in hosting with a company that loves servers and treats customers fairly, contact us. We can be reached at sales[at]ioflood.com, or you can check out our dedicated servers page for more info.